RECOMMENDATION TO 2023 ELECTION CANVASS BOARDS FROM RON HANKS
November 22, 2023
---
---
December 6, 2023 FIVE CO GOP CANVASS BOARD MEMBERS REFUSE TO CERTIFY 2023
---
Recorded November 28, 2023
COGOP RISK-LIMITING AUDIT BRIEFING NOV 28, 2023
Posted December 6, 2023
Part 1 of this briefing provides an overview of critical issues with the risk-limiting audit (RLA) during November 2023 election in Colorado. This includes the biased selection of contests to audit in each county and using RLA software rather than "a manual random audit" [by comparing the audited ballots to the cast vote record (CVR) for that ballot card] as required by Colorado statute. In Part 2, we demonstrate how to use the RLA audit tool to evaluate sample sizes and discuss some options to challenge the RLA implementation. As conducted, the RLA fails to achieve a 3% risk limit for most contests in Colorado.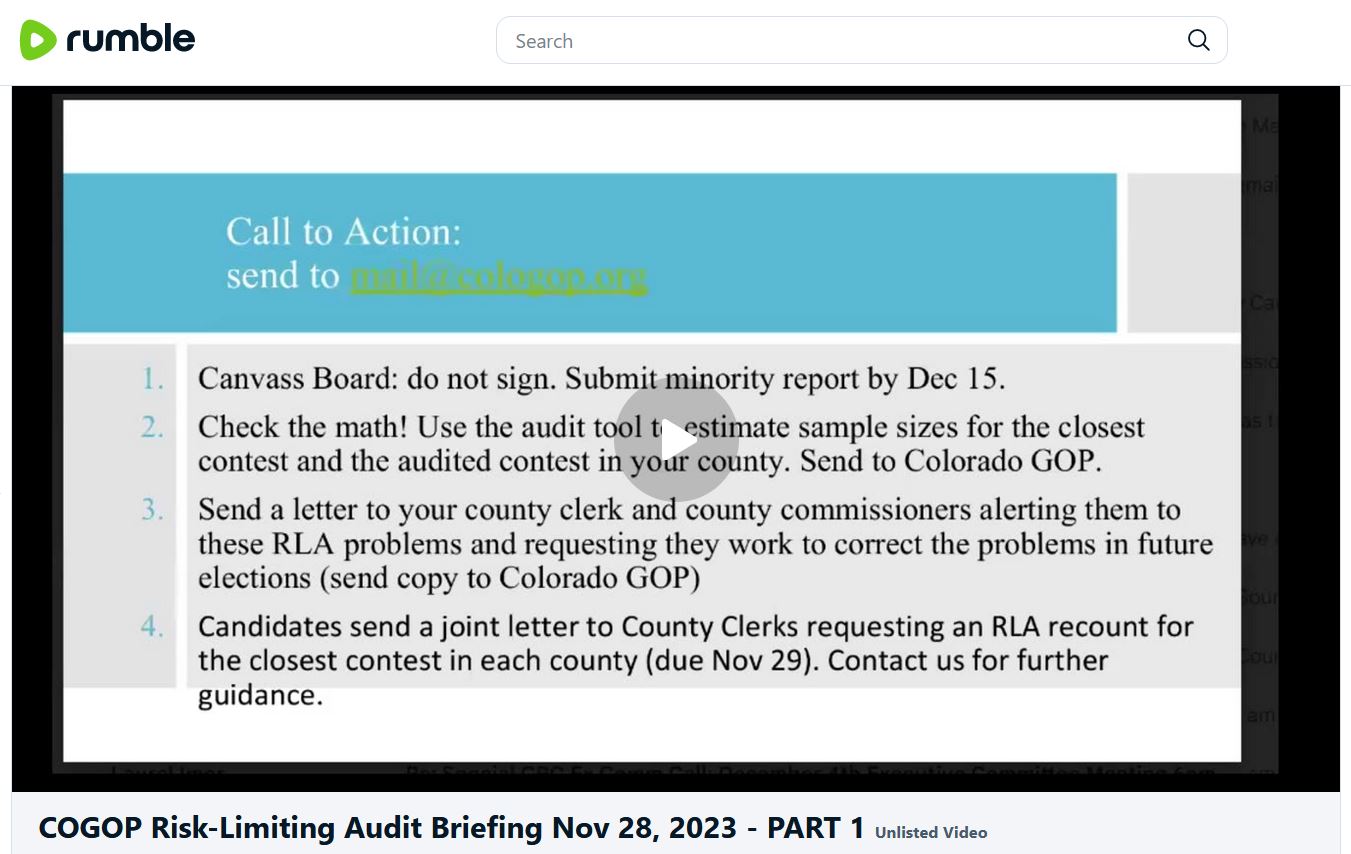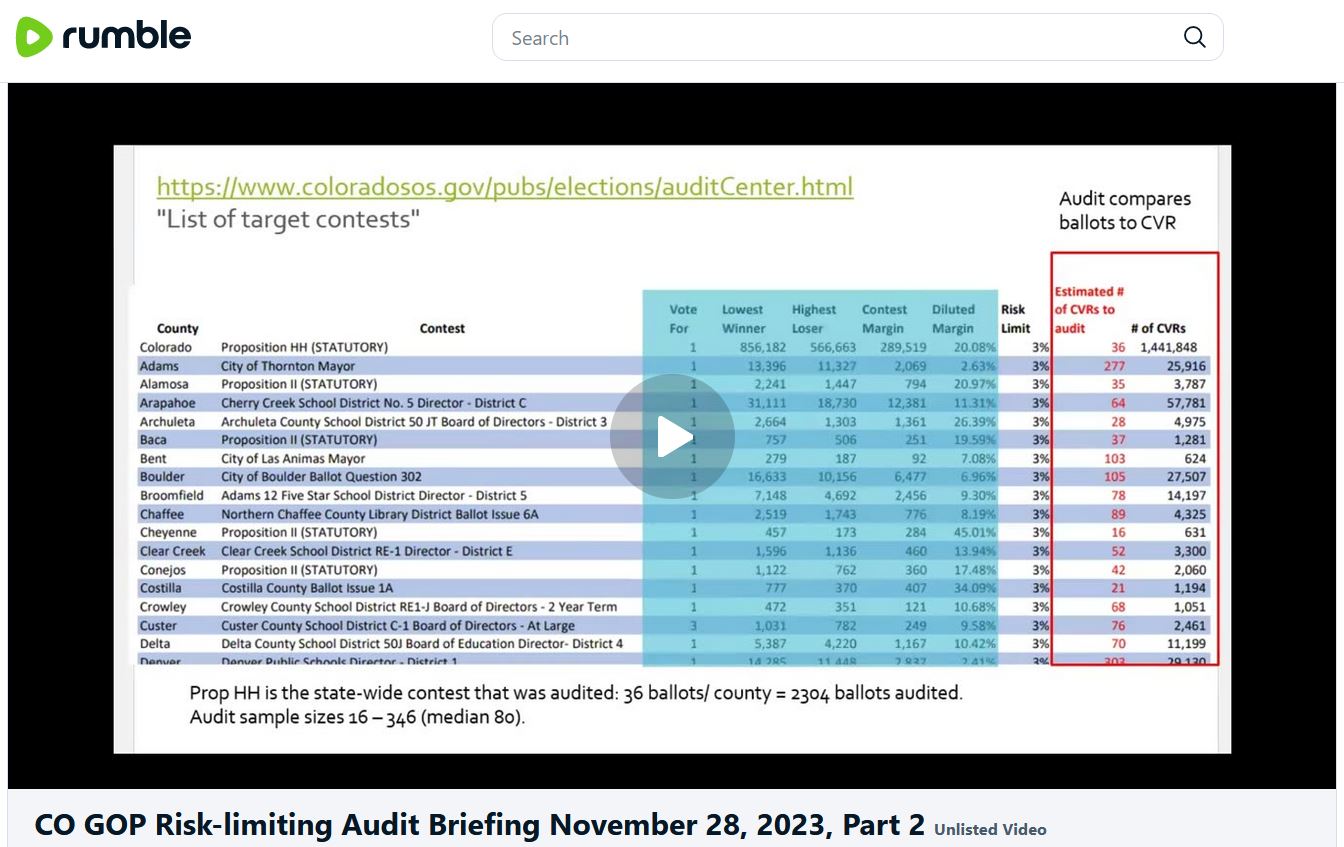 ---
Click on image below for the Colorado GOP recording of why Boulder County GOP Canvass Board members haven't certified elections for over a decade.
Click the READ MORE bar below to go to the article with the presentation slides.
Click on Image Below for Presentation Slides.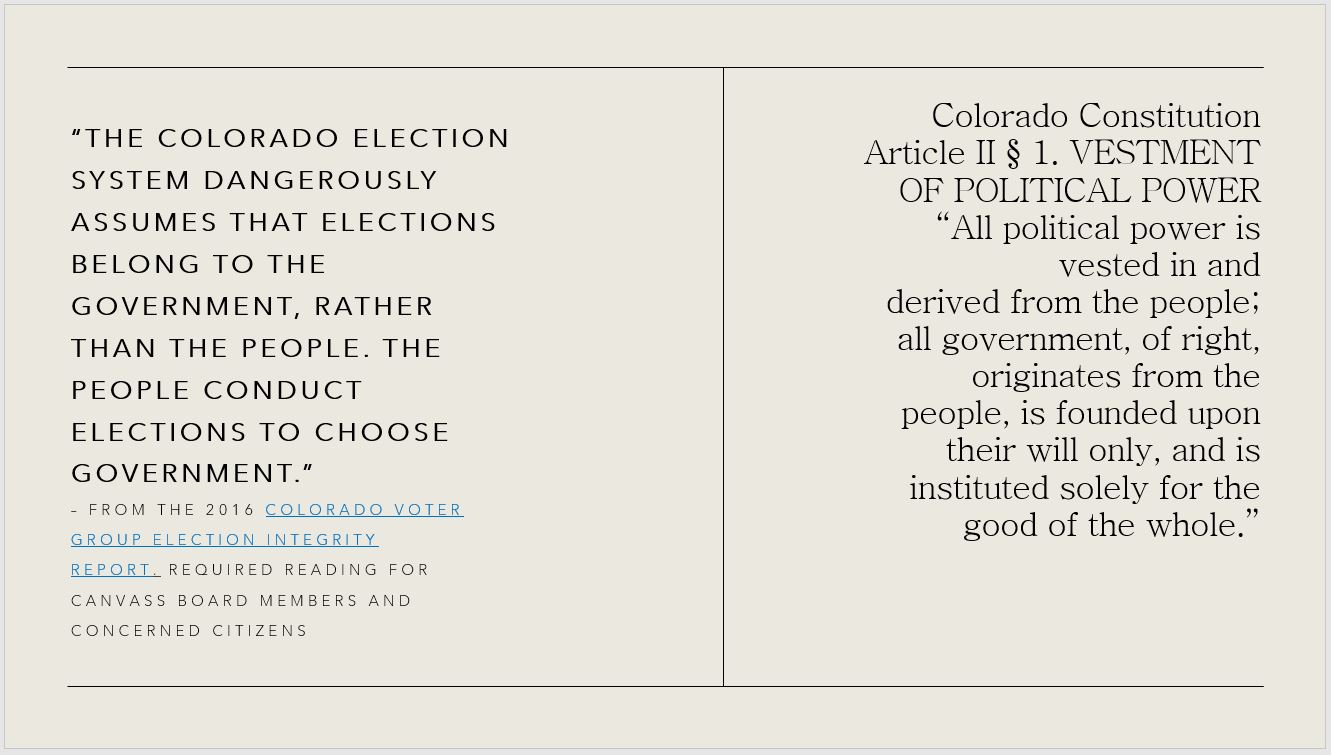 ---
The current design of the election system is not certifiable for known reasons:
The letter that Wayne read - 96 times!
July 15, 2022 - DEMAND HONEST ELECTIONS
MyColoradoGOP.org Newsletter - https://mailchi.mp/92157b55ac43/demand-honest-elections?e=c280ac4fea
The debate that Matt refused to have -
March 28, 2022 - DEBATE - GOLD STANDARD OR PYRITE?
Article includes the slides presented by Shawn Smith and Jeff Young.
---
Colorado Secretary of State Rule Ten, Canvassing and Recount - https://www.coloradosos.gov/pubs/rule_making/CurrentRules/8CCR1505-1/Rule10.pdf
Colorado Secretary of State 2023 Calendar

-end-