From: Randy Corporon <This email address is being protected from spambots. You need JavaScript enabled to view it.;
Sent: Friday, September 17, 2021 7:32 AM
Subject: Re: our plans together??
Planning for the future and preparing for the next steps are crucial if we are to succeed as a party.

This is especially true if we make the right choice tomorrow, September 18th, and vote to opt-out of the rigged open primary system that allows crooked Democrats to manipulate our nominations and put election integrity into serious question.

To make this effort as successful as possible, we need to know what comes after we opt-out and what the implications are down the road.

There is no question we, as a party, should opt-out, but what plan guarantees our success afterward?
Read more: RANDY CORPORON - OUR PLANS TOGETHER AFTER OPT-OUT
https://www.coloradopols.com/diary/163775/wadhams-wouldnt-be-surprised-if-majority-of-co-gop-governing-body-votes-to-exit-open-primaries
By Michael Lund
September 16, 2021
Former Colorado Republican leader Dick Wadhams "would not be surprised" if over 50% of the governing body of the Colorado Republican Party votes Saturday not to participate in open primaries anymore, falling short of the 75% that's legally required to dump open primaries but setting the table for GOP activists to file a lawsuit that could overturn the 75% threshold and allow Republicans to eschew primaries as early as next year.
Wadhams made the comments on KHOW's Peter Boyles show this morning in an interview in which he also cast a decidedly sour view on GOP candidates who baselessly say the last presidential election was fraudulent.
"I would not be surprised if they get over 50% of the people who show up that day," said Wadhams on air. "And frankly, that is concerning enough to me that our state central committee, the most active Republicans around the state, might vote to support this crazy idea to eliminate the primary.

"It will not get 75%," said Wadhams. "It will fail. But what I would wish happen, is like it would be defeated soundly. I don't think that'll be the case, to be honest, Peter. I think it's past."
A day after Heidi Ganahl, the newly minted GOP gubernatorial candidate, refused to tell reporters whether she thought the last year's presidential election was legitimate, Wadhams said Republicans won't be "credible in a general election" unless they say the election was not stolen.
"I think candidates ought to look at the reporter and say, 'I do not believe the election was stolen. I do not believe we should ban 1.6 million unaffiliated voters from voting in the primary.' And I think we just ought to take a stand on this because it's defining our party," Wadhams told Boyles.

"I honestly think we've got to have strong candidates who were willing to say, no, the election was not stolen because that's the only way they can be credible in a general election."
Last week, A Republican lawyer joined an ACLU of Colorado attorney in saying Republicans have a case in court to argue that the 75% threshold should be tossed out and replaced by a simple majority.
They'd have an even better argument if the party votes by over 50% to exit the primaries, say GOP activists.
The percentage required is not just based on the Republicans who show up Saturday but on the total membership of the GOP governing body, including those who aren't present Saturday. There are different opinions on whether proxy votes will be allowed.

September 17, 2021
Dear Colorado Republican Central Committee,
It is time for us to step up or step down.
The world is dying for Republican leadership. There is ample proof – and has been since November 4th – that the nation's Presidential Election was stolen from the Republican President who was providing that leadership.
Yet the leaders of the CRC told us that Colorado has the GOLD STANDARD of elections. (Here's my article on that - https://mycoloradogop.org/103-election-integrity-or-gaslighting.)
Those same leaders have piled onto the DON'T KILL THE STATE-RUN PRIMARY ELECTION platform. (See: https://mycoloradogop.org/159-opt-out-opinions-pro-and-con) Why are they so anxious to stay in a broken election system when we have a Providential opportunity to completely bypass it in the process for nominating REPUBLICAN candidates to the general election ballots? If we can't even run an in-house election, are we truly fit to govern?
Government tyranny is smothering us, and we can't fix it by continuing to allow the corrupt government to run unconstitutional, infiltrated, and corrupted elections to choose our candidates for government. In the last few years, we've gone from a GREAT America to complete government tyranny. Our feckless party has this record:
A Republican President was elected, yet the CRC has not joined the challenge of the Biden pResidency or demanded a full forensic audit of the Colorado election
Four county Republican Canvass Boards refused to certify the CO 2020 Election, yet the party didn't question the Secretary of State for certifying it (https://mycoloradogop.org/97-4-counties-wont-certify-2020-general)
The Republican Party lost 15 state-wide seats and 5% registration in the last election
Colorado's tyrannical legislation passed in the last session with 94% BIPARTISAN support
The people of Colorado are being subjected to tyranny with no resistance from the Republican Party, whose ultimate purpose is to create government to SECURE OUR GOD-GIVEN RIGHTS
Questionable electronic equipment and mail ballots will again be used in the 2021 local elections and no challenge is being made for integrity in 2022 because the GOP defends the "Gold Standard" lie
Strong Republican Congresswomen Lauren Boebert and Marjorie Taylor Green keynoted the two most successful Lincoln Dinners in the state, but some leaders boycotted them for being the wrong kind of Republicans
The Republic needs the Republican Party organization at every level to step up and use their platform, principles, legal structure, power, and responsibility to provide the coordinated path towards the liberty and justice that is our right. We have not proven ourselves as leaders towards this goal at this crucial time. We could step down and get stomped on, or we could step up and lead. Let's Opt-Out and get the return to a Republican Colorado started.
Sincerely,
Peg Cage, Bonus Member Boulder County
From: Mike Angley <This email address is being protected from spambots. You need JavaScript enabled to view it.;
Sent: Wednesday, September 15, 2021 7:38 AM
Subject: Re: lying record
Thanks Ron for saying this.
The sad truth is that all the politicians who oppose the opt-out only oppose it because they know they'd probably lose their political office if they have to face actual Republican voters at the assembly level for the nomination.
These guys don't want you to know their true records or how they violate the GOP platform, so they hope to hide behind dark money and special interests.
The establishment isn't being noble about this. They're being completely selfish.
- Mike
________________________________
On Tue, Sep 14, 2021 at 1:45 PM Rep. Ron Hanks wrote:
Mike,

They don't want to win.

Here's the hard truth: the political insiders in our party would rather lose "pretty" than fight a hard battle on your behalf.

You see, the Republican establishment is really good at nominating candidates who give great concession speeches on general election night or electing weak leaders who don't fight back.

Think about it:
Why don't you see more of these guys standing up to Jared Polis?
Why are they always concerned with what the media will say or what Democrats think?
Most importantly, why do they fight the hardest against fellow Republicans?
Not convinced yet? Here's a good test for you to try.

Ask any elected politician or consultant who opposes the opt-out if they think Joe Biden was legitimately elected President.

If you ask them what they think about the election being stolen, then you will quickly see them start to squirm while desperately giving you a non-answer.

They don't want to stop Dominion Voting Systems from counting your votes nor are they bothered by Democrats spending dark money to pick your Republican nominees.

Ask yourself, "why?"

Why do they want us to keep playing a rigged game that Democrats control? The answer is shockingly simple.

These political insiders and establishment hacks want you to stick with the open primaries because they are content with the little amount of power the Democrats allow them to have.

If you care about election integrity while wanting to stop Dominion Voting Systems and crooked Democrats from counting your votes in the open primary, then your best bet is to opt out on September 18, 2021.

President Trump just sent an email out today that laid it out perfectly. The President said:
"If we didn't have RINOs, the Republican Party would totally dominate politics. The good news is there are far less than there were four years ago—it is a dying breed—but nevertheless, and unfortunately, they still exist!"

Remember this on Saturday.

Respectfully,
Ron Hanks
Representative, HD60
Colorado General Assembly

P.S. Remember, Charlie Brown will continue to fall on his back if he keeps letting Lucy yank the football from under him.

Don't let the GOP be Charlie Brown.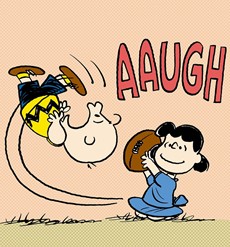 Subcategories